Hey Wizard News fans. I want to apologize for the lack of blog posts recently. When I started Wizard News it was my hope to have a blog post a week. These last few weeks have been challenging to get that done.
But I haven't stopped working on stuff for you! Podcast episodes of the WizardCast are still being released every other week (or close to it) and I have two new videos in the works for Wizard's Apprentice.
My time these days has been consumed by work and preparing for the new little one that is entering my life. My family is expecting a baby boy sometime in the next few weeks. I've been madly trying to clean and move my home office so he'll have a nursery when he arrives. So right now all my extra time is being consumed by work, baby preparedness and my two wizards in training (pictures below).
Here are some of the upcoming posts and events going on:
MidWest Dreamin' 2015 Recap. This post is going to be a recap of the great event that happened on July 9/10. It'll be complete with some video of the keynotes as soon as I edit them. We also recorded two WizardCast episodes live, the first one which you can listen to here: https://thewizardnews.com/2015/07/20/wizardcast-midwest-dreamin-live-with-nick-lindberg/
Dreamforce – Hands on Training – Advanced Flows. Mark Ross and I are teaming up for our first MVP HOT session at Dreamforce 2015. We'll be going through some Advance Flows functionality. So if Wizard's Apprentice hasn't been enough stay tune and register for that session
Dreamforce – WizardCast Live & UnScripted – Mark and I will be recording a podcast episode live at the Admin Zone and we'll LOVE audience participation. So stay tuned for dates and times.
Dreamforce – Unoffiical, Official annual meeting of the Flownatics. Our first meeting occured during Dreamforce 2014 session "Know the Flow Code." Sadly, this session was not chosen this year. So we're going to work on an unofficial meeting of the Flownatics. You can vote on where this meeting will be held in our new WizardCast Group on the Success Community
Wizard's Apprentice: Sub-Flows. This has been a video I've been working on for months now that just never seems to get completed. Once the home office has been moved I should have some time to do some more recording and editing
Secret Project 9904 – I've been working on something that should be fun (I hope) and entertaining (I hope). No timeframe yet, but hopefully before Dreamforce
My little wizard's in training. For those with sharp eyes, you'll notice the photo has been shopped in order to get both kids on the couch at the same time.

One of my little Wizard's decided that one hat wasn't enough. She had to take my Salesforce1 hat too.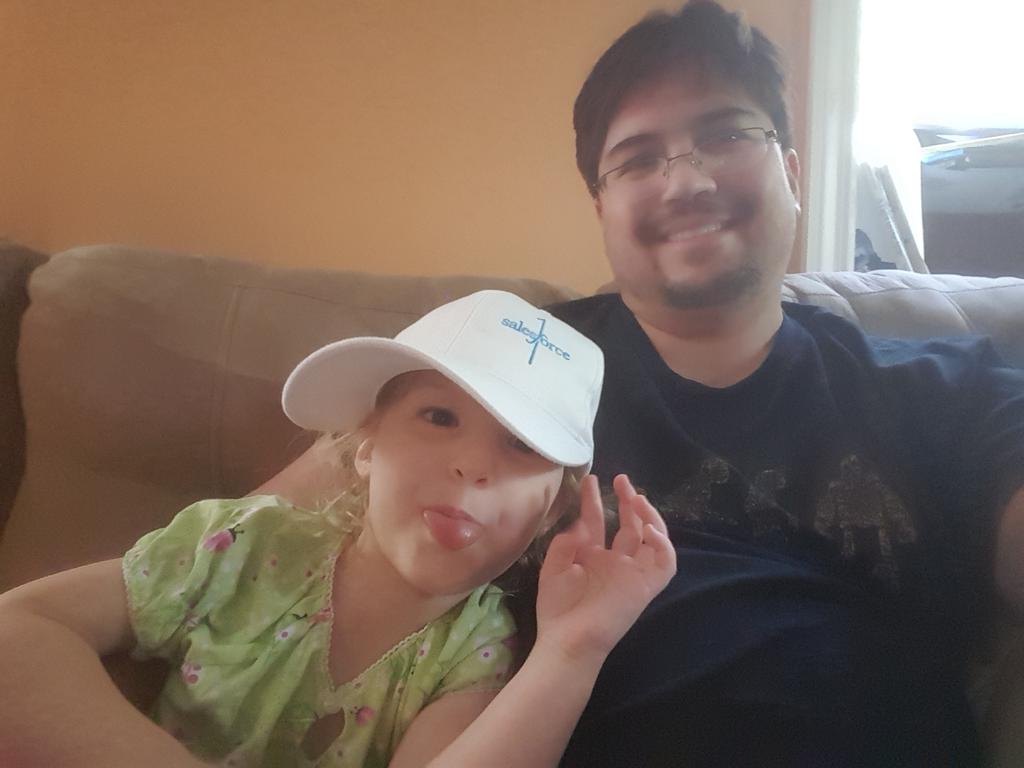 – Rose Salesforce1 Hat
What happens when my little wizards get ahold of Snow and my hat.

I was recently asked what was my favorite Selfie I've taken (Salesforce related). So here it is.

— peter coffee